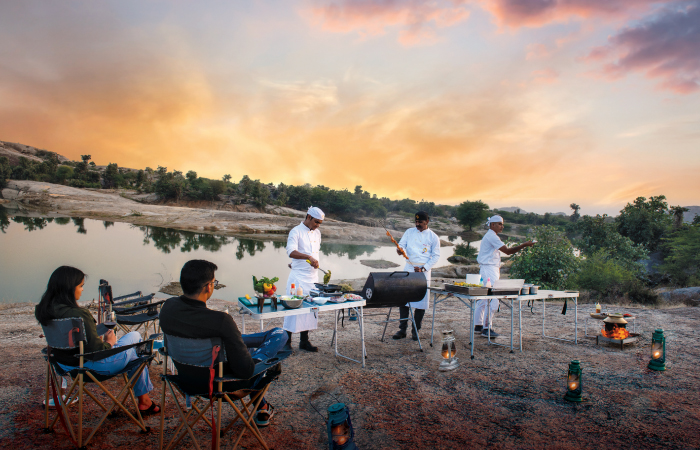 There is growing feeling of excitement among Indian tourists as they take advantage of opportunity to explore country during current summer season.
HT Bureau
The summer season has always been associated with vacations, exploration and rejuvenation. This year, there is a palpable sense of excitement as travellers eagerly embrace the opportunity to rediscover the world and create cherished memories. At DoubleTree by Hilton Goa Panaji, we are witnessing this surge firsthand as guests flock to our picturesque coastal paradise, eager to bask in the sun, embark on new adventures and indulge in the vibrant culture of our region.
As General Manager, DoubleTree by Hilton Goa Panaji, I am delighted to welcome the summer season and witness the exciting trends that are shaping the travel landscape this year. As the world gradually recovers from past challenges, it is heartening to see a resurgence in travel and a renewed sense of wanderlust.
One of the prominent trends we are observing this summer is a return to nature. After spending an extended period indoors, travellers are seeking destinations that offer pristine beaches, lush greenery, and an opportunity to reconnect with the great outdoors. Goa, with its breathtaking landscapes and serene beaches, has become a preferred choice for those yearning for solace in nature's embrace. Our centrally located resort, close to Goa's capital, provides guests with the perfect blend of tranquillity and convenience, enabling them to explore the region's natural wonders while enjoying the comforts of a world-class resort.
WelcomHeritage Cheetahgarh Resort & Spa opened its doors two years ago, this being its second summer. Building this property has been a passion project with extremely detailed planning, keeping in mind the environment, community, and of course our guests.
In terms of our number and occupancy, while outbound has opened, we have seen a 120 per cent growth in occupancy and revenue per room. Despite the ADR growth of seven per cent, we have seen domestic markets increase.
Here are some summer trends we see currently:
Weekend stays are still the flavor: Our occupancy rates and trends show us that weekends and specifically long weekend getaways (either by road or even if it involves air travel) are preferred.
Small group family holidays: Microgroups of families like to experience a luxurious, rejuvenating escape from the mundane urban chaos to connect and relax. We are seeing a demand for our cottages due to this.
A luxurious experiential resort beyond the hills: While hills will always be a hot favorite for the summer, we find many queries coming in from travellers who are looking at offbeat experiential hotels.
Accessibility: This always play a key role, especially for shorter holidays. Better flight connectivity to Jodhpur and Udaipur has also eased accessibility to our resort. We are very particular about the airport transfers, we offer our guests in making the journey to the resort extremely comfortable.
As for now, we are expecting positive summer at our resort.
As summer heat sweeps the nation, one destination stands out as a refuge for travellers seeking respite and adventure—Manali. Nestled in the picturesque state of Himachal Pradesh, Manali witnesses a remarkable surge in tourist arrivals during summer. Let's delve into the reasons behind this surge and explore the top travel trends in Manali during the summer season:
The scenic beauty of Manali: During summer, when the weather is mild and pleasant, visitors flock to Manali to immerse themselves in its serene ambience.
Adventure tourism: Manali has emerged as a hub for adventure enthusiasts, attracting thrill-seekers from all over the country. Summer offers the perfect weather conditions for various adventure activities such as trekking, paragliding, river rafting, zorbing and mountain biking.
Cultural immersion: Manali is not just about natural beauty and adventure— it is also a cultural delight. The region is home to the indigenous culture of Himachal Pradesh and during the summer months, visitors can witness vibrant local festivals and traditional dance performances and also indulge in local cuisine.
Wellness and Retreats: The summer season in Manali witnesses an increasing number of travellers seeking wellness and rejuvenation.
Sustainable travel: In recent years, sustainable travel has gained significant momentum and Manali is at the forefront of this trend. Manali's efforts towards sustainable tourism such as waste management initiatives and promoting organic farming have garnered appreciation from tourists. Travellers are opting for eco-friendly accommodations.