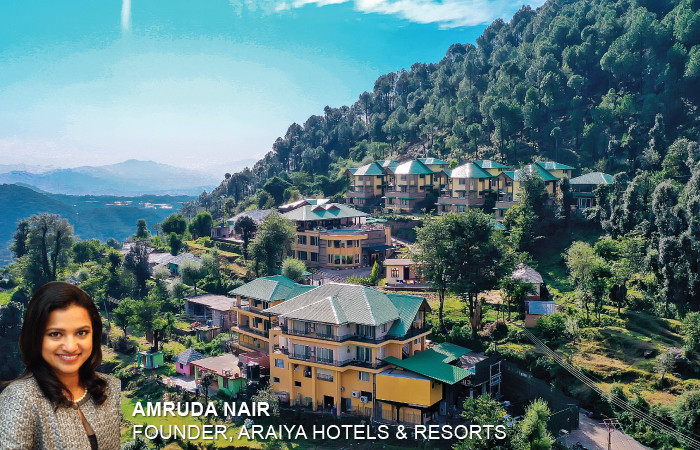 Building a legacy of her own, Amruda Nair takes us through her journey of creating a young Indian, female-founded hotel brand that blends finest international practices with local expertise.
Lipla Negi
The Founder of Araiya Hotels & Resorts, Armuda Nair, identifies herself as a third-generation hotelier, carrying forward the lessons and legacy of her grandfather, CP Krishnan Nair, the renowned hotelier and Founder, The Leela Group. Oftentimes, she is referred to as The Leela Group Heiress, but Nair's love and passion for hospitality goes beyond the moniker. "Both my parents studied at The Hotel School at Cornell before returning to India to open The Leela Mumbai. The hospitality element was therefore an integral part of my childhood," she shared.
All roads led to Araiya
Nair received her very first lessons in hospitality at home. "My father, Vivek Nair, was instrumental in pursuing the asset-light strategy for The Leela brand, starting with The Leela Gurgaon, which was the first for the Group and a very successful operation. The sale and manage back model worked for transactions in both Goa and Kovalam as well," she revealed. Today, when most of the hotel brands are adopting an asset-light strategy, it only strengthens her beliefs. "I believe the change in strategy to asset light is global, primarily because of the number of transactions that are led by institutional investors in the sector who want to be asset owners but leave the operations to the brands. The COVID made the need for specialists more acute, and owners saw the value in the way experienced operators were able to manage costs, retain employees and switch gears quickly to cater to new segments and market opportunities," she explained.
While she pursued a career in hospitality purely out of passion, the idea of developing brands only came to her in her 30s. She confided, "I was fortunate to find a business partner from the Middle East who encouraged me to set up a brand for his hotels in Qatar and the Kingdom of Saudi Arabia. The joint venture was my first foray into strategic brand programming, and it gave me the confidence to do the same for myself." Araiya Hotels was thus launched in India in 2018 and Araiya Malta was set up for the restaurant business in Europe in early 2019.
An avid traveller herself, Nair prefers to have her finger on the pulse of new-age travellers with discerning tastes and preferences. She defines her target client as "an urban adventure seeker that is looking for an immersive, personalized experience adapted to their reason for travel." Naturally, the spaces should cater to the increasing need for self-discovery through carefully curated immersive experiences. "We attract our target audience by designing the spaces to have a clear sense of place, using colours and textures that are reflective of the destination, so that they have an immersive experience from the time they cross the threshold. Our guest chose to come back to us as our activities are bespoke and personalized to individual preferences," she pointed out. Another aspect that makes Ariaya properties stand apart is their strong focus on food and beverage. "From bottling our own drinking water on site to sourcing within a five-mile radius," said Nair, for whom resilience is a guiding light. She also credits the brand's strong and integrated technology platform, which allows them to track guest preferences, customize stays, and drive direct bookings.
Talent & technology
Most of its hotel owners find comfort in the fact that Nair comes from an owner's background, who appreciates the need for transparency and responsibility. "Most of these are first-time hotel owners for whom hospitality is a non-core business," she stated. Furthermore, the brand prides itself to be a young Indian, female-founded brand combining the best of global practices with local know-how. Its first property, Araiya Palampur, serves as a good representative of what the brand stands for—engaging, immersive, adaptive design that is reflective of the destination and technology that allows for seamless service delivery—even at 5,000 feet.
So how does this new brand aim to carve a niche for itself in the highly competitive Indian hospitality market? Nair stated, "When competing with bigger brands we have found our biggest strengths to be technical—with a focus on building efficiently, technology—cloud-based and cost-effective and training—adaptive and intuitive service delivery. Our existing hotel owners are our best proponents, as they have already realized the value we bring through our approach." Undoubtedly, the focus is on applying the combined power of teamwork and technology. "Our endeavour as a young Indian brand is to execute the best of global practices in a local setting with highly trained teams powered by technology. However, for Nair, while technology can assist efficiency, it can never replace human intervention in hospitality. "We have integrated the AI elements to both, collect data and widen the data funnel as well as allow for better parsing of the data to streamline analysis and accurate forecasting," she said.
The expansion roadmap
Currently, Nair has her mind focussed on two projects under construction in Alibaug, Maharashtra, "where we are currently providing technical services to the developers to ensure that what is built is efficient and sustainable," she shared. The brand also aims to further supplement its presence in Himachal Pradesh this year with a hotel under the 'Soul by Araiya' brand in Dharamshala as well as a resort under the same flag in Kerala.
Another key focus area has been the serviced apartments category. Under the Araiya banner, Nair and her team have been working with a developer on the design programming and space allocations for additional service elements required for a serviced apartment project in Alibaug, Maharashtra. Talking about the future growth of this segment, she said, "As a management company, we have provided technical services for a 180-key serviced apartment tower in Qatar. The model in the Middle East has been very successful, and in India, too there is a market for it, primarily catering to project-based long stays."
Hotel development
According to Nair, the hospitality market in India has seen steady recovery with strong performances in the past year driven by sustained patronage by domestic leisure guests, pent-up demand for socials and events led by weddings, and the resurgence of domestic business travel followed by international business travel. She places Indian hotel brands ahead of international chains in the country for demonstrating stronger recovery and credits "their stronger presence in Tier II & III cities, locally contracted rates with companies, as well as a larger leisure footprint."
She feels that the demand from the domestic market, particularly for new, untapped leisure destinations, remains steady, which is translating into an expansion of resort capacity in Tier II & III locations, accounting for as much as 33 per cent of the future supply.
Sustainability
Talking about the brand's commitment to sustainability, Nair said, "When we conceptualized the Araiya brand, the entire team made a committed choice to eliminate as many single-use items as possible. Whether it is the toiletries in our bathrooms or water bottles, we adopt as many reusable and recyclable items and practices in our day-to-day operations as possible. One of the best examples of conscious consumption is the wall-mounted dispenser in every one of our bathrooms that is periodically refilled by our housekeepers. This also allows us to bulk-buy a higher quality of vegan, sulphate-free, and paraben-free toiletries that are customized for Araiya."
"Making our hotel operations sustainable is a very important cornerstone of our ethos and one that we have heavily invested. I have no doubt that this facet of our philosophy alone will reap tremendous rewards in the years to come," she concluded.