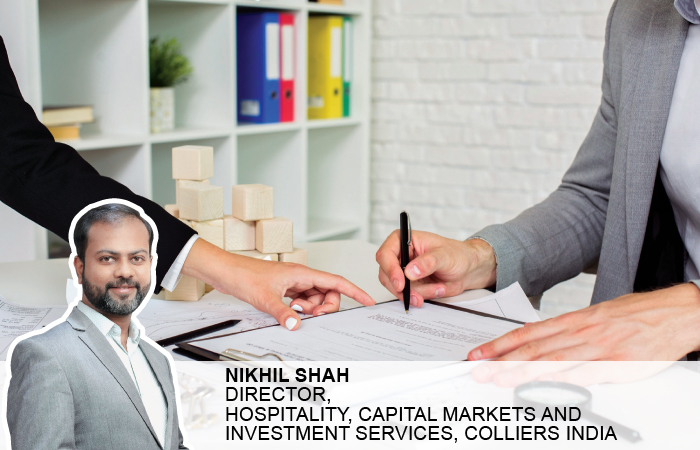 India's hotel sector has seen remarkable revival with RevPAR recovering to pre-COVID levels. This has led to paradigm shift in contracting models, including management contracts, franchises and lease/revenue share contracts, writes Nikhil Shah.
As India's hotel industry bounces back from the COVID-induced slump, an extraordinary revival has taken place. With revenue per available room (RevPAR) now fully recovered to pre-COVID levels, the year 2022 marked a significant turning point in occupancy and rates for the country. Although international travel is yet to fully resume, the surge in domestic consumption has been the driving force behind this remarkable wave of success. In this article, we delve into the captivating realm of hotel contracts and explore the evolving trends in how hotel brands operate in India.
A paradigm shift in contracting models: In the realm of branded hotels, various contracting models have emerged as preferred choices for hotel brands operating in India. These models, including management contracts, franchises and lease/revenue share contracts, have revolutionized the relationship between hotel owners and operators. International brands are partnering up with domestic chain/villa companies to offer more products.
Over the past decade, hotel brands and operators have increasingly pursued asset-light growth models to foster expansion through strategic partnerships with hotel owners. The conversion landscape of independent hotels to brands, along with the greenfield and brownfield upcoming hotels, stood at one-third each.
Hotel management contracts: In a win-win partnership under a hotel management contract, the owner of the hotel real estate appoints a management company to operate the hotel business on their behalf. This arrangement allows the owner to retain ownership of the real estate while delegating day-to-day management responsibilities to the management company. The owner assumes most of the risk and reward from operations but pays a fee to the management company, which oversees the smooth functioning of the hotel. Elements such as base fees, incentive fees and additional charges such as sales and marketing fees collectively range from 6 per cent to 10 per cent of the hotel's revenue.
Ensuring performance and protection: Hotel contracts often incorporate provisions to safeguard the interests of both parties involved. One common provision is the area of protection (AOP), which restricts the hotel operator from opening another hotel within a specified radius to prevent overlapping businesses. Additionally, an operator performance test establishes minimum performance benchmarks, granting the hotel owner the right to terminate the contract if the hotel underperforms against agreed-upon standards.
Hotel franchises: They offer a mutually beneficial arrangement wherein a hotel owner operates their property under a franchise agreement with a renowned hotel chain. By leveraging the franchisor's brand, distribution channels and intellectual property, the hotel owner maintains control and assumes the risks and liabilities of the property. In franchise contracts, brands usually charge three per cent to five per cent of the topline.
Lease/revenue share: On the other hand, the hotel chain enters into a contract with the owner, either through fixed or variable lease agreements or hybrid structures such as revenue sharing with a minimum guarantee. As the P&L shifts from owner to hotel chain, the revenue share offered by brands is 20 to 25 per cent of the topline.
Emerging trends and prospects: Hotel signings in the fiscal year 2023 have surpassed pre-COVID numbers, reflecting the industry's resilience and potential. International hotel brands, traditionally associated with larger room inventories, are now open to properties with fewer than 100 rooms. Moreover, domestic companies are increasingly exploring revenue share arrangements, indicating a dynamic shift in the market.
Conclusion
As India's hotel industry rides the wave of recovery, the landscape of hotel contracts has undergone a remarkable transformation. With a shift towards asset-light models, strategic partnerships and innovative accommodation options, both hotel owners and brands are poised for success. The future looks promising, with a surge of new contracts on the horizon, especially in Tier II & III locations, leisure destinations and metro cities. As the hospitality sector embarks on a promising journey, the captivating world of hotel contracts continues to shape India's thriving hotel industry.