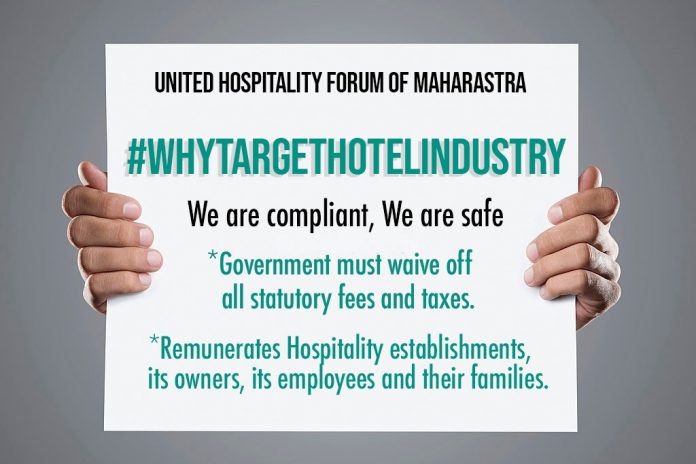 Hospitality Associations across the State including the FHRAI, HRAWI, NRAI, AHAR and other local Associations have formed United Hospitality Forum of Maharashtra (UHF) and have initiated a campaign #MissionRoziRoti to highlight their desperate bid for survival. The UHF has organized a silent protest outside of all hotels and restaurants in the state on 8 April. The Associations have stated that hotels and restaurants are in deep financial trouble and without the Government's consideration; the industry will be staring at a catastrophe.
"The impact of COVID-19 on the hospitality industry has been extremely disruptive. Among all the core sectors of the economy, hospitality was the first one to fall and is going to be the last to recover, hence becoming the biggest causality of the pandemic in the country. The industry had lost all its business after the lockdown came into effect and the zero-business scenario remained for 7 to 10 months during last year but the obligations of the establishments including rental and salary expenses, servicing of debts and statutory payments continued all through this period. This led to mounting debts and threats of insolvency for a majority in the sector along with millions of jobs losses. As of today, 30 per cent of the hotels and restaurants in the country have shut down permanently due to financial losses. Over 20 per cent of hotels and restaurants haven't opened fully after the lockdown. The remaining 50 per cent continue to run in losses and revenues are below 50 per cent of the pre-COVID levels. Our businesses are under immense financial stress and the latest 'Break The Chain' order is equivalent to another complete lockdown. We assure the Government that the industry is committed to following all the health and safety protocols and has our unwavering support towards the various efforts to combat the pandemic. We humbly request the Government to look into this genuine request of the hospitality industry and extend support in our fight for survival," says Pradeep Shetty, Jt. Hon Secretary, Federation of Hotel & Restaurant Associations of India (FHRAI).
"Barely six months ago were restaurants allowed to reopen. For close to eight months, on Government orders, restaurants remained closed but did not receive any support or relief against losses accrued by these businesses. There are around 10,500 hotels and 210,000 restaurants in Maharashtra. The smallest of restaurants employ eight individuals whereas an average restaurant and hotel employees 20 to 30 heads which include waiters, cleaners and cooks, accountants, managers, delivery boys, security and gardeners. Of the approximately 30 lakh employees engaged in the industry directly in the State, approximately 40 per cent are just from the Mumbai Metropolitan Region. A restaurant is a place where patrons prefer to dine not just for the food but for the ambience it offers. Food delivery or parcel service is only a supplementary service to dine-in and it contributes only 5 per cent to a restaurant's earnings. We are at a complete dead-end and to express our desperate bid for survival have organized a silent protest on 8 April 2021 at 12:30 pm, outside hotels and restaurants across the State," says Sherry Bhatia, President, Hotel and Restaurant Association of Western India (HRAWI).
"With no means to sustain another lockdown, we request that the Government completely waives off all statutory fees and taxes, and also remunerates Hospitality establishments, its owners, its employees and their families for the loss of incomes caused by the decision. The restaurant industry especially the small businesses and eateries are in deep financial trouble, and without the Government's consideration will be staring at a catastrophe. Today, several establishments are in massive debts. We request the Government to either allow us to continue operating until 12 AM with the mandated SOPs or permanently shut us down, rather than keep us half alive and in a state of misery," says Shivanand Shetty, President, Ahar.
Hospitality Associations across the State including Poona Hoteliers Association, United Hotel Association Pune, Nagpur Hotel and Restaurant Association, Aurangabad Hotel and Restaurant Association, Vasai Taluka Hotel Association, Hotel Owners' association of Thane, Navi Mumbai Hotel Association, Palghar Hotel Association are rallying against the latest lockdown imposed in the State. The protest is also supported by various city and district level hospitality Associations from Beed, Amaravati, Nanded, Hingoli, Jalna, Parbhani, Aurangabad, Satara, Osmanabad, and Vasind among others.
"Restaurants have been operating at 50 per cent capacity all along, following strict COVID19 protocols and in a controlled environment ever since we were allowed to reopen in Oct 2020. The operating conditions have remained unchanged since then. There was no spike in cases for all these months. Recent spike in cases is largely due to opening up of public transport. But unfortunately, we have been the first ones to be shut down while the trains, buses, taxis continue to ply. This is grossly unfair. The Industry had anyways lost its erstwhile vibrancy and was on last bit of oxygen and now this order is almost like a death knell to us. We and our employees have been left to fend for ourselves with no State support. As one of the largest employers of human capital in India, we don't see this lockdown as an administrative issue but a human issue. We had just started to rehire people and these marginalized workers are once again staring at uncertainties for no fault of theirs. If I have to sum up the emotions of the sector at this moment, while business owners are dejected and disappointed, our workers are palpably very angry and upset. We have always considered ourselves as a partner to the Government in this fight and I sincerely hope they don't treat us like pariahs. We are happy to sit with the Government in finding an amicable solution to kick start the business," says Anurag Katriar, President, National Restaurant Association of India (NRAI).
The Forum has stated that the latest lockdown on the Hospitality industry is uncalled for considering that it can only have an adverse impact on businesses.
The United Hospitality Forum has launched a campaign on social media with hashtags #MissionRoziRoti #MajheKutumbhkonachiJababdari #Saveourkutumbh #saverestaurants #saveourfamilies, #feedouremployeesfamilies #payouremployeessalaries #Myfamilymyresponsibility #Feedmystaff.