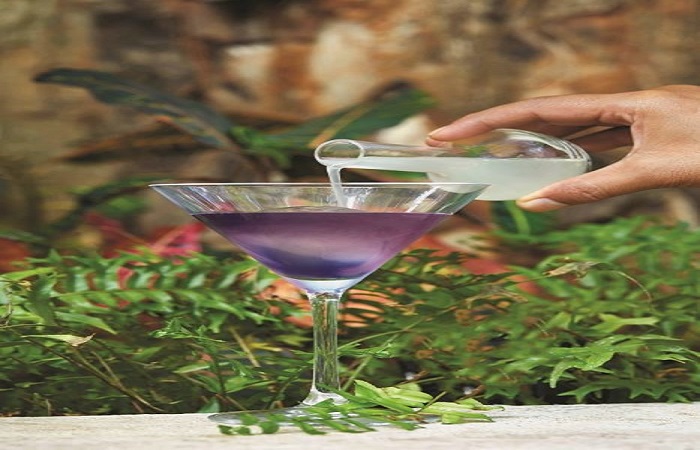 From indigenous ingredients to infused flavours, personalisation emerges as the key trend driving the 'spirited' choices of Gen Z, reveal top mixologists.
Lipla Negi
At the helm of things, Archita Gupta, Asst. Food and Beverage Manager, Taj Holiday Village Resort & Spa assumes the role of conceptualizing and crafting unique cocktails at House of Nomad, located in the Taj Holiday Village Resort & Spa, Goa. As a devoted mixologist, she observes that modern consumers are increasingly open to exploring new flavours. She points out, "An array of trends is taking over the spirit world such as portable RTD cans, infused and flavoured spirits, colourful spirits like yellow gin, pink gin/vodka, not to miss the advent of small batch craft spirits, making indigenous brands premium and preferred."
Customised choice
Gupta highlights that Gen Z places a premium on health, more so than millennials. They prefer drinks perceived as healthier, including natural fruit juices, low-sugar options, and non-alcoholic beverages. This trend has led to the increased popularity of drinks like kombucha. She adds, "Low-alcohol variants such as 0 ABV G&Ts and Rum Colas are the favoured choices of the current generation."
Sustainability matters
There's an increase in demand for plant-based, vegan and sustainable choices of drinks such almond milk, oat milk, and other eco-friendly options. The premier bars have already shifted their focus in this direction and are working towards curating customised drinks. Gupta explains, "The Paathya initiative by IHCL focuses on sustainable initiatives in day-to-day operations. Our bar House of Nomad uses homemade syrups made using homemade ingredients, procured from local producers, eliminating the use of plastic straws and stirrers. We use glass bottles for storage of ingredients."
Pairing to perfection
In the realm of bartending, flavour pairing is a thoughtful endeavour. However, Gupta emphasizes that there are no strict rules governing flavour pairing; it largely depends on individual preferences and creativity. She elaborates, "When it comes to crafting cocktails, the decision often revolves around contrasting or harmonizing flavours within the drink to achieve a balance of the five tastes. It involves aligning intensities and a continuous process of tasting and adjusting—a perpetual cycle of trial and error. The possibilities are boundless, allowing you to explore and uncover your unique combinations."
She further notes that for a curated cocktail, a typical 60 ml pour is the standard practice, with exceptions made for cocktails with a strong emphasis on the spirit.
A cut above
Besides traditional methods like right marketing, social media plays a crucial role in driving the popularity of a bar. "To stay ahead in this competitive market and increase your visibility, you need to have an out of the box story," Gupta suggests. Second comes maintaining consistency. "To achieve that, it is not only imperative to have brilliant bites & drinks, but also a wholesome experience which takes in account everything from the service, hospitality, little collaterals, lighting, ambience, vibe to the design of the menu, approachability of the space, competitive pricing, element of storytelling, a well thought name or logo that establishes the identity and leaves its imprint," she advises.
A toast to capitivating narratives
Embodying the speakeasy concept, ZLB23 thrives on the power of word-of-mouth marketing. Rajib Mukherjee, Head Mixologist ZLB23, The Leela Palace Bengaluru describes his core strategy as 'building genuine connections with the guests, ensuring their comfort, and fostering a sense of belonging'. He believes in the power of collaboration when it comes to curating a global experience for guests. He explains, "We are also making a mark by introducing global cocktail culture through collaborations with renowned bars and beverage professionals. The magnetic music ambiance, delectable food offerings, and unique twists on prohibition-era cocktails contribute to ZLB23's distinctive and captivating identity, positioning it as the 'talk of the town'."
Embracing minimalism
While it's essential to acknowledge the diversity of individual tastes within any generation, there are discernible trends that set Gen Z apart from millennials in their drink preferences. Mukherjee describes, "Gen Z tends to favour cocktails with lower sugar content, embracing the minimalist concept, and exploring unconventional flavour profiles. They seek not just a drink but a captivating narrative to accompany their beverage, making the overall drinking experience more immersive and engaging."
Top choices
In the dynamic world of cocktails, current trends point to a growing preference for white spirits, with tequila taking the lead in today's cocktail landscape. "It's worth noting that in India, whisky remains a dominant force in the cocktail market, reflecting a strong and enduring preference. Interestingly, rum is also making a significant mark on the modern cocktail scene, adding diversity to the spectrum of spirits," Mukherjee shares.
According to him creating a well-balanced cocktail through flavour pairing is an art. He explains, "It's crucial to identify the primary and supporting flavours. Technical knowledge and experimentation are the key to concocting a popular drink. Some flavours benefit from temperature, while others shine under pressure, also known as sous pression or ice infusion." He defines the winning formula as a harmonious balance between sweetness and acidity, which can also enhance the overall taste of the cocktail.
Funky flavours in demand
Recently, Mukherjee has been immersing himself in the realm of carbonated cocktails, with a particular focus on highballs that demand meticulous preparation techniques. "I have also been exploring the art of fruit fermentation, blending fruits with an assortment of spices and herbs to introduce distinctive and unconventional flavours into cocktails," he reveals. The enthusiastic response from customers has been overwhelmingly positive, serving as a catalyst for his team to craft outstanding cocktails enriched with captivating narratives.
He further adds, "Cocktails typically contain 60 ml of alcohol, following an industry standard that includes spirits, liqueurs, aperitifs, digestifs and bitters. However, the perception of the amount of alcohol can vary due to the diverse flavours and styles of cocktails." He advises bartenders to ask relevant questions when taking cocktail orders, as different cocktail styles suit different preferences. "For instance, those who prefer spirit-forward cocktails may perceive less alcohol in a tall and refreshing highball drink. Regardless of how fancy a cocktail may seem, the critical factor is asking the right questions to ensure patrons receive the drink that best suits their taste," he suggests.
Maximize resource utilization
Sustainability is a broad and vital aspect of bar operations at ZLB23. "Closed-loop cocktails are an integral part of our sustainability journey, ensuring that we maximize the use of all ingredients, from fruits to herbs and spices, by creating oils or pickles and exploring preservation methods," he reveals. Additionally, he advocates use of chipped glassware recycling, which provides a second life to glass products. He adds, "We have made the shift to metal and stainless-steel straws and stirrers, emphasizing our commitment to eco-friendly choices in all aspects of our bar operations."
Demand for homegrown spirits
Renowned for his profound expertise in wine varieties and quality, Ranjeet Singh, Beverage Manager at the Sheraton Grand Bengaluru Whitefield Hotel & Convention Centre, boasts an esteemed WSET Level 3 certification. His passion lies in the realm of flavour experimentation, leading to the curation of distinctly unique beverages. As he conveys, "One of the most captivating facets of my mixology career is the chance to master the world of flavours. I've consistently had the privilege of connecting with individuals from diverse backgrounds, crafting unforgettable experiences for patrons at bars, lounges, and events. Through tailor-made cocktails, I've forged relationships, nurtured connections, and evolved into a trusted confidant, catering to the individual tastes of my patrons."
It's all about experience
While millennials largely prefer indulging in a cocktail to relax, Gen Z with their love for Insta-ready locations and showy features like molecular gastronomy – seek experience. "In the competitive bar scene, creating an inviting ambiance, offering creative cocktails with locally sourced ingredients, delivering exceptional service, embracing sustainability with in-house garnishes, and hosting engaging events have significantly boosted our bar's footfall. When determining liquor quantity in cocktails, our focus remains on the recipe, glassware, and customer preferences. We aim to strike a balance that maintains a harmonious flavour profile while ensuring responsible service. We have become the 'talk of the town' by carving a niche that revolves around sustainability and unforgettable experiences," Singh explains.
Homegrown spirits find favours
Singh further adds, "In a bid for sustainability, the bar is incorporating in-house grown ingredients for cocktail garnishes, enhancing with dehydrated fruits like grapefruit and oranges, as well as dry herbs. These steps have been instrumental in elevating the bar's offerings and promoting sustainability."
"To stay ahead in this competitive market, you need to have an out of the box story"
Archita Gupta, Asst. Food and Beverage Manager, Taj Holiday Village Resort & Spa
"Perception of the amount of alcohol can vary due to the diverse flavours & styles of cocktails"
Rajib Mukherjee, Head Mixologist, ZLB23, The Leela Palace Bengaluru
"Maintaining a harmonious flavour profile while ensuring responsible service is the continuous endeavour"
Ranjeet Singh, Beverage Manager, Sheraton Grand Bengaluru Whitefield Hotel & Convention Centre