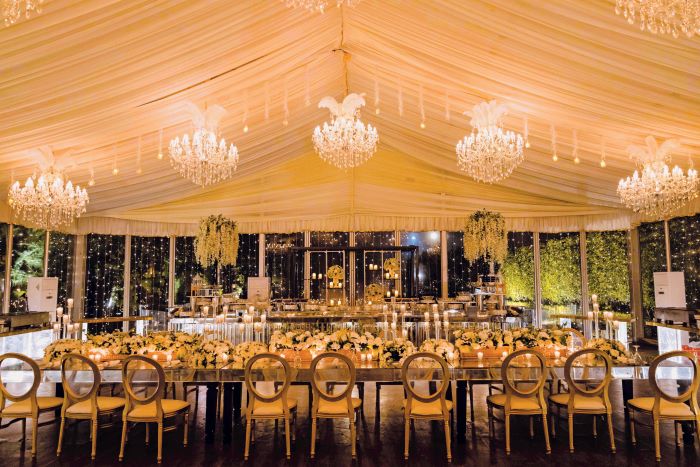 Indian luxury catering trailblazers bring a paradigm shift in hospitality standards. Two pioneer brands share their stories of exploring and shaping this niche segment.
Lipla Negi
Planning is paramount in this business
Puneet Sikand Director – JPS Cateringπ Ltd The Kitchen Art CoTM
Punit Sikand was truly visionary when he recognized the disparity between food preparation and presentation, and he took it upon himself to narrow that gap. He introduced a sense of elegance and top-notch service to the field of food catering, effectively pioneering the concept of upscale catering in the nation. "Twenty years ago, there existed a significant divide between five-star hotels and the ordinary 'halwais' who prepared food without any finesse. International cuisines, aside from those offered by five-star hotels, were a rare sight. This presented a substantial opportunity, and I seized it. I successfully bridged the gap between the 'halwais' and five-star hotels, and the response was instantaneous," he recounts.
With commitment and consistency is how he and his team clawed their way to success in the narrow niche of luxury catering. He believes it's the constant urge to learn and innovate that sets his brand apart. "My team & I worked tirelessly for over a decade, leaving no stone unturned to establish ourselves. We always dwelt in the luxurious style of our food & presentation, with constant upgradation. Even today, we are on our toes to upscale our brand with our innovations & the current trends," he explains.
In a capital-intensive business, it is not easy to break even and turn cash positive operationally too soon. So how did he manage to taste success? He says, "This business is both capital & labour intensive. When I started the business, the menus were small and did not have any other paraphernalia attached as compared to today. However, it did take about 4 years to break even then."
He underlines 'styling of buffets and developing new recipes' as extremely significant because the first impression is always the last. "The food must be beautifully and artistically displayed and more importantly the servers must be knowledgeable and proficient in the art of selling," he upholds.
When it comes to brainstorming for new menus, he credits 'travel' as a vital source of inspiration & exploration. From HNIs & business houses to movie stars & politicians, his clientele includes the crème de crème of the country. "The largest catering that we have catered is for a reception dinner for 8000 guests with 12 identical buffet stations and over 700 servers," he says. His catering enterprise also takes overseas assignments during peak summers & monsoons in India. "It has become a trend to do international destination weddings and usually in beautiful locales," he shares.
"We catered for a reception dinner for 8000 guests with 12 identical buffet stations"
Authenticity of every dish is vital
Arjun Puri & Sahiba Puri Co-founders XO Catering by Design
It began as a passion project back in 2006 with the Chatwal wedding in Udaipur, a high-profile one that was featured on NDTV Good Times. The project turned into a turning point of introspection and inspiration for the founder of XO Catering by Design. Co-founder Arjun Puri shares, "We realized the scope of bringing together the knowledge of traditional & global cuisine with creativity to form the fundamental pillar of catering."
The brand has catered events for the esteemed Amitabh Bachchan, Shahid Kapoor, Priyanka Chopra and other leading names like Kiran Nadar, Munjal & Shriram. Recently, at the Dior Spring/Summer Campaign 2023 in Udaipur, it catered to over 1500 guests, showcasing a diverse menu, keeping in mind dietary restrictions from 8 different cuisines. "We also work closely with various embassies in India & consider it an absolute privilege. Overseas, we have had the honour to cater at the Burj Khalifa in Dubai," he adds.
Creativity coupled with consistency
Mastering diverse cuisines requires a deep understanding of their origins and nuances, and the company has mastered this art. "We source our chefs from various regions, ensuring authenticity in every dish. Our team undergoes rigorous training and attends sample workshops to keep updated with global culinary trends," he informs.
To add cultural uniqueness to their work, the team works closely with local artisans, sourcing unique serving platters that complement the aesthetic of each dish. It certainly helps to have his daughter and co-founder Sahiba Puri with a background in Fashion Styling, that enables the team to learn and execute the latest trends in food aesthetic.
Explaining the brand's creative strategy she says, "We must consistently diversify our platters, crockery & cutlery to keep up with & create new market trends. Especially with catering in Delhi being a seasonal business, with each season we have managed to keep our clients extremely satisfied and excited for what is to come next. Most of our capital is put back into procuring materials and ensuring that the next event is just as good, if not better, than the last."
Melting pot of global influence
According to Sahiba, food has a remarkable ability to foster a sense of harmony, be it through culture, rituals, celebrations, social gatherings or emotional comfort. And food goes hand-in-hand with travel, especially for her – it keeps the fire alive. "Through our travels across the globe, our passion for exploration usually extended beyond the landscape, to the heart of each culture – its food. This enabled us to put together a feast for the senses, bringing the indelible mark that each destination left on our palates for everyone to enjoy. It was a long journey filled with hurdles to make our kitchen a melting pot of global influence, however an extremely rewarding one," she says.
"Most of our capital is put back into procuring materials"